Braking Away
"Perhaps looking for a new challenge, I've been attempting something unexpected in New York City bike-riding behavior: I stop for red lights. I might as well be an alien. First of all, I am the only one. I have never seen another bicyclist waiting at a red light simply because it was red. Children ride past me and snicker. Bankers, with their suit-legs neatly clipped, pedal by on their folding bikes and cast silent derision my way." [Story]


Stuff White People Like: Bicycles

It is important that you never question why someone needs a $5000 bicycle since the answer is always "performance." [Story]


John Forester talks to Google
John Forester spoke at Google's headquarters on the occasion of Bike To Work Day, celebrated May 17 2007 in Silicon Valley and the San Francisco Bay Area. He was part of Google's ongoing Tech Talks series of invited guest speakers. His topic was The Management of Bicycle Transportation. You can watch the video here.
(Contributed by Bob Sutterfield)


Sixty Benefits of Riding a Bike
More than Forty Good Reasons for utility and recreational bicycling.


Mapping bicycle resources
A well-designed bicycle resource map can help new and old cyclists alike learn to take advantage of their bicycles as transportation tools. Learn how this can help.your advocacy efforts. [Story]


Old Frame/New Life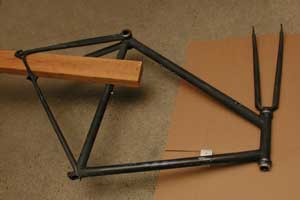 Want to breath some life back into that classic 1970-80's steel framer over in the corner? Follow Sheldon Brown's procedure and as easy as 1-2-3 with a 2X4 you can rework that old 5-6-7 speed into an 8-9 speed dandy. [Story]


Developing an Advocacy Strategy to Affect The Political Process
"Government still happens through personal relationships. Consequently, while working your issue and contacting people be aware of the need to develop personal relationships. Whether you are contacting a politician, government employee, coalition partner or media, by phone, mail or in person, the same general advice applies." [More]


Adventures of Crazy Biker Chick
"Last time I biked to IKEA, I saw a cool shoe cabinet. Fortunately at that time they were out of stock (I swear IKEA is actually Swedish for out of stock) because I would have probably bought it - and at 40 pounds and the large package dimensions it would have never gone on my bike rack." [More]


50 miles a day and attorney is still rolling
Ronald Wallenfang, 62, is an indefatigable bicycle rider. Since 1993, Wallenfang has ridden 238,000 miles - an average of nearly 50 miles of cycling a day. He does it with daily rides to the office. Some days he picks longer routes. [Story]


US teacher bikes six hours to volunteer
Daniel Greenhoe rides his bicycle for six hours once a week to get to an elementary school in the mountain area of Hsinchu County Taiwan, where he voluntarily teaches three classes of English. [Story]


The Bicycle Diaries: Is it possible to live in America without a car? Uh, sort of.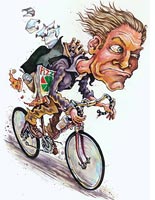 After two weeks of riding my bicycle everywhere, I'd gotten used to people treating me as if I were somehow not right in the head. Store clerks ignored me, old men gave me the hard stare, soccer moms avoided eye contact. After all, almost nobody in America rides a bike if they can afford a car.
[Story]
---
TheFreedom Machine
Her husband had broken her arm twice, three ribs once, her jaw once, and left her body covered with bruises more times than she could remember. He'd prohibited her from leaving the house, earning money of her own, or having friends. The couple had two children, the second of which just left home a month ago. That same week, Barbara took her son's bicycle and panniers, which had been left in the garage, and made her getaway one morning after her husband went to work.
[Story]
---
One week, two wheels
"At the height of morning rush hour, you pedal out of your driveway and onto Fresh Pond Parkway to join the estimated 3.2 million Americans who commute to work by bicycle."
Jack Thomas, a Boston Globe reporter, leaves his car at home and commutes to work on a bicycle. Thomas takes this hackneyed topic and produces a chronicle that is easily the best of its kind. Not to be missed. If it asks for a userid and password either register for free or use n@n.com and boston.
[Story]